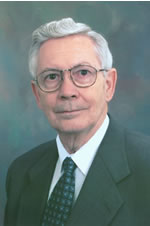 David R. Pharr was born in Wilkesboro, North Carolina, February 22, 1937.  His early religious life was with the Methodist denomination.  His mother led the way into the New Testament Christianity and he was baptized while in his teens.  His father, his brother, and his sister also came into the church.  His brother, Claude, is also a preacher.
David married Margaret (Peggy) Bunker of Portsmouth, New Hampshire, while both were students at Freed-Hardeman College, and considers her his greatest asset in the ministry.  They have four children.  Two of the sons (James and Neal) are also preachers.  The third son, Stephen, is a member of the Charlotte Avenue congregation.  Their one daughter is Elizabeth (Beth), of Mansfield, Texas.  They have ten grandchildren.  Peggy operates Good News Enterprises, a mail order Bible, book, and supply company.  She has also been active in speaking for ladies' groups.
David completed the A. A. degree at Freed-Hardeman College with an additional year in Bible.  Further work was done at Rio Grande College and Alabama Christian School of Religion (now Southern Christian University), where he received the B. A. degree.
David has been in full-time church work since leaving Freed-Hardeman College in 1958.  His first full-time work was in Point Pleasant, WV. followed by Gallipolis, OH.  He has had two tenures with the Charlotte Avenue Church in Rock Hill, SC.  He was with Charlotte Avenue for almost 25 years before moving to Knoxville, TN. in 1988 to serve for about seven years as Director of East Tennessee School of Preaching.  This was followed by three years with the Clinton, TN. church.  His return to Charlotte Avenue was in 1998.
David Pharr retired from full time preaching in February 2009 but continued to preach part time at Charlotte Avenue until August 2009.
He was editor of Carolina Christian magazine for a few years.  When the board of directors wanted the publication to take a more liberal direction he resigned that position and in 1997 he accepted the editorship Carolina Messenger (formerly Palmetto Messenger).  He is a regular writer for The Spiritual Sword and provides occasional articles for other publications.
Published books are: Five Minute Radio Sermons, Modern Messages from the Minor Prophets, The Beginning of our Confidence, A Happy Coincidence on a Desert Highway, The Simplicity System, and Thy Kingdom Come.  He has also published two Bible correspondence courses: "Acts of Apostles" and "Getting to Know Jesus."
David has an ongoing schedule of gospel meetings ("revivals") and regularly speaks on various lecture programs.